WHY THE EMERALD ISLE OFFERS, TOURISTS, GOLFERS, VISITORS AND WHISKEY AFICIONADOS A VISIT FULL OF EXPLORATION, SUPERB SCENERY, PHENOMENAL GOLF COURSES AND FUN-FILLED PUBS!
"Céad Míle Fáilt"
(A Hundred Thousand Welcomes!)
Ireland Golf outdid itself in 2019.
This was the year that Irish golf took center stage. Not only did an Irishman, Shane Lowry, win The 148th British Open, but Royal Portrush, the site of the championship, received compliments from both the players and the attendees.
The R&A did an outstanding job in not only preparing the course, a "real proper links", but all the ancillary infrastructure — player friendly and definitely visitor friendly. 237,000 tickets were sold and probably another 100,000 were needed.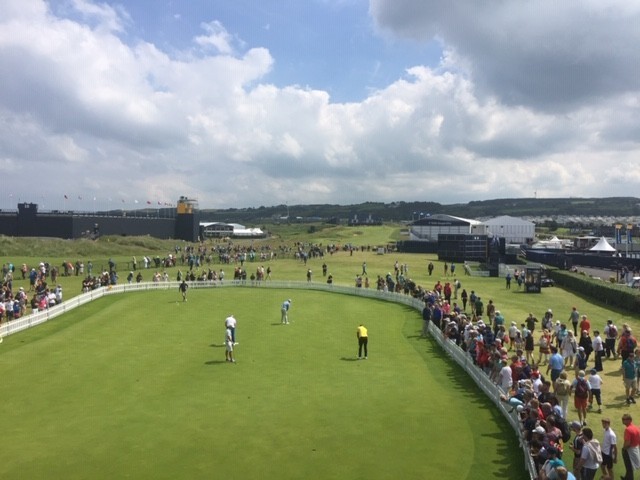 Portrush putting green.
The Open shop was stocked to the rafters and the merchandize flew out of the store as though they were giving everything away for free.
A trip to the Emerald Isle, whether for a golf trip, a vacation, or a whiskey experience, is definitely a bucket list item. The pace of life is remarkably sedate and Irish welcomes really are as warm as the legend suggests. The "greenness" of Ireland is everywhere you travel.
Ireland is famous for having a third of the world's links courses, making devotees of seaside golf chomping at the bit.
As for whiskey lovers and enthusiasts, there are more than 30 whiskey distilleries spread across Eire. The "water of life" has been distilled in Ireland since the sixth century and with the iconic distilleries of Jameson's, Tullamore, Bushmills and D.E.W. beckoning, there is no better time to explore the island's whiskey story. Also take time to visit Glendalough, Clonakilty and Echlinvilole to sample a new generation of whiskey makers.
As for golfing, Ireland has iconic venues such as Ballybunion, Portmarnock, Royal County Down and Lahinch as their standard bearers, but there are so many more outstanding courses that most golfers have never experienced. A review of 6 courses follows that merit your consideration and a visit in your future travel plans.
This is the course that Padraig Harrington won the Irish PGA in 2007, 2008 and 2009. Rory McIlroy won the Irish Amateur in 2006 and where Tiger set the links record at 67.Be familiar with the first rule of Irish golf: Ignore the weather forecast! Showers are predicted every day, but I was lucky to have a total of just 5 hours of rain over the six courses I played during 7 days of golf. By being a seaside links, the wind, of course, does blow often. Be prepared to learn how to hit shots that stay below the wind and have patience to only hit a shot in between gusts, if possible. As locals like to say, "The weather is as dry as the locals' humor".
Ireland's west side, also referred to as the Wild Atlantic Way, the world's longest defined coastal touring route, holds some terrific seaside courses that are half as expensive and twice as much fun as better-known venues — and you don't need to call a year in advance for a tee time. This is the Ireland that existed before Ballybunion became the Pebble Beach of Europe. In fact, the western coast of Ireland can lay claim to the finest array of links courses in the world (sorry, Bandon Dunes and St. Andrews).
The Wild Atlantic Way includes magnificent beaches, cliffs, bays and surfing seas stretching from remote Malin and the northern headlands to near sub-tropical waters and gardens ending in tranquil Kinsale Harbour in the south. It is a must to explore!
And along the way it enables and enhances some of the world's greatest links golf!
Without any fear of contradiction, playing The European Club was the highlight of my trip!
The European Club is just 30 minutes south of Dublin.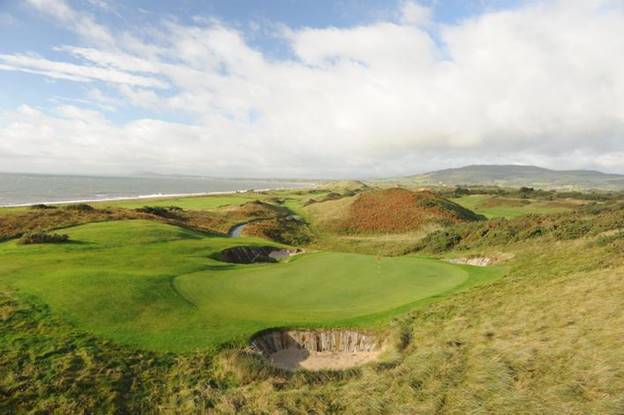 Not only is the European Club ranked in the World's Top-100 Golf Courses, but its owner and designer, Pat Ruddy, the "Master of the Links", is in my Top 100 most interesting, magnanimous and fascinating people in golf, whom I have been fortunate enough to meet and spend time with in their company.
Golf Magazine USA ranked The European Club in their World Top 100 Golf Courses list in 2003, 2005, 2007, 2009, 2011, 2013 and 2015.
Pat Ruddy is synonymous with Irish golf —  from his personal collection of over 6,500 golf books, to his exceptional golf design skills. Many courses around Ireland have some sort of a Pat Ruddy touch. He is a walking encyclopedia of every aspect of links style golf courses.
Golf Magazine, in collaboration with ten other international golf magazines, nominated the course in their The 500 Greatest Golf Holes in the World, wherein
three holes are from the links of The European Club.
The par-4 seventh, measuring 470-yards, was named as one of the Worlds 100 Best Holes.
The par-5 thirteenth and par-3 fourteenth were named amongst the Worlds 500 Best Holes.
On a broader scale, nine of the Top-40 Golf Courses in Ireland, per Golf Digest, have been designed or substantially redesigned by Pat Ruddy and nine of his venues are listed in the Top-100 Golf Courses in Great Britain & Ireland.
Of all the courses I have played in Ireland on my two trips there, The European Club, on the County Wicklow coastline, about 30 miles from Dublin is, by far, my favorite. This is a course I could play every day. The flow of the course is its USP (Unique Selling Proposition). Every hole follows a natural progression and that of marvelous and thoughtful design.
The European Club is extremely challenging off the back tees and views of the infamous railway-sleeper lined bunkers only add to the difficulty. Caveat: Offline hits are prejudicial to say the least, but the saving grace is that the beach is in play on the back nine!
The course boasts 20 holes (two additional par threes) and that back nine will live long in my memory with holes like 11, 12, 15 and 17 utterly captivating.
The restaurant food is above par and the service exemplary.
Depending on the time of year, green fees range from €120 (November 1 to March 31) to €225 (April 1 to October 31 with July 1 – July 31 at €250).
http://www.theeuropeanclub.com
County Sligo (Rosses Pt) Golf Course
18 holes, par 71, 6609 yards. Links.
This is an awesome golf course! It is often referred to as the "Grand Dame" of Northwest Ireland golf courses. I daresay that if this course was located elsewhere, other than northwest Ireland, it would join the ranks of "must play" a la Ballybunion or Lahinch, as County Sligo is widely regarded as one of the greatest championship links courses in Ireland.
The 125-year old course is located in the picturesque village of Rosses Point and known locally as 'The Point'. The original 9-hole course, founded in 1894, is now a world class 27-hole complex with modern facilities and a spacious clubhouse.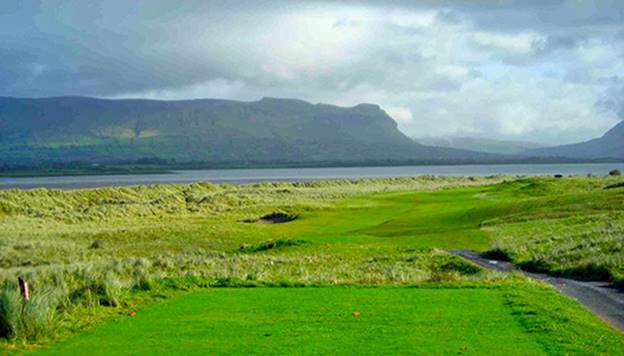 The west side of the course is bounded by the Atlantic Ocean. The view to the north is dominated by Benbulben; an impressive glacier cut rock formation bearing a strong resemblance to Cape Town's Table Mountain. The east has great views of the Dartary Mountains, while the south vista is completed by Knocknarea.
The traditional links layout was designed by Harry Colt who was reputed to have been influenced by the layout of St Andrews Old Course in his creation of County Sligo. Colt utilized the natural contours of the dune-covered landscape, rather than moving large amounts of earth during its design. On the fairways you'll play from crisp turf, while the undulating greens are defended by plenty of deep sand traps. The end result is a course filled with dramatic flowing fairways, elevated tees, and raised plateau greens.
The 7th, 8th and 14th holes are all stunning, due to the crossing of Mahon's Burn – a meandering stream awaiting any miss-hit shots!
County Sligo, in my opinion, serves the best fish and chips that I have tasted in Ireland!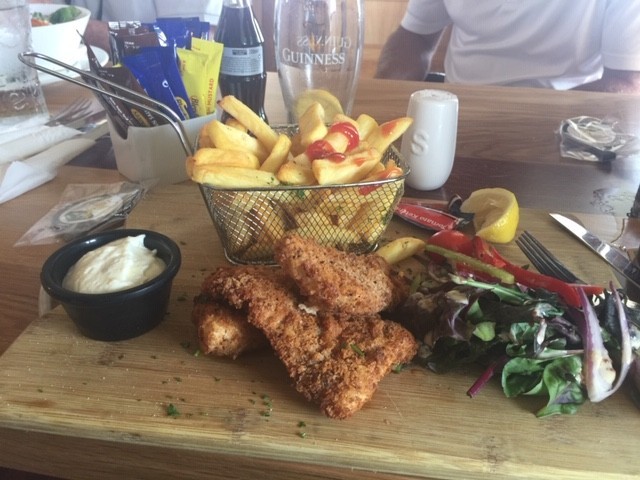 Rates are between €115 and €205 depending on the time of year and hour of play.
www.countysligogolfclub.ie
I highly recommend the Radisson Blu Hotel in Rosses Point, County Sligo as the best place to stay. It is modern, with great rooms and food service, especially at the bar.
Tel: 00353 71 914 0008. www.radissonblu.com/en/hotel-sligo
Narin & Portnoo Golf Course, Portnoo, County Donegal, Ireland
18 holes, par 73, 6269 yards. Links.
The Narin & Portnoo Golf Club was formed as a 9-hole course in 1930, until it was extended to the full 18 in 1965. Many regard this to be one of the most natural courses of all time, but it hasn't quite received the recognition it deserves. Maybe this is because of its remote location.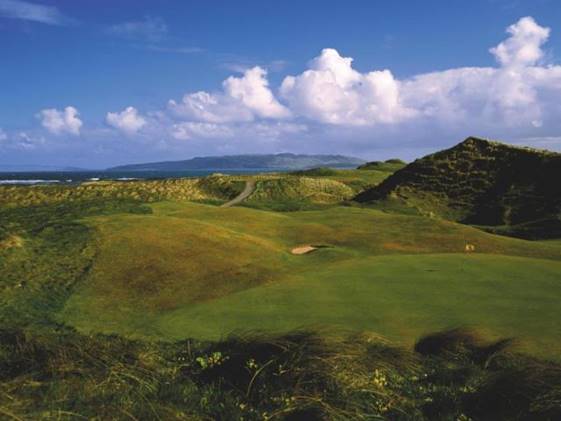 Liam McDevitt is the new owner. Liam is from Donegal, but now based in New York.
McDevitt instituted a major redesign of the course and refurbishment of the clubhouse.
Gil Hanse of the United States did an exemplary job of turning this truly spectacular setting into a true test of pure links golf.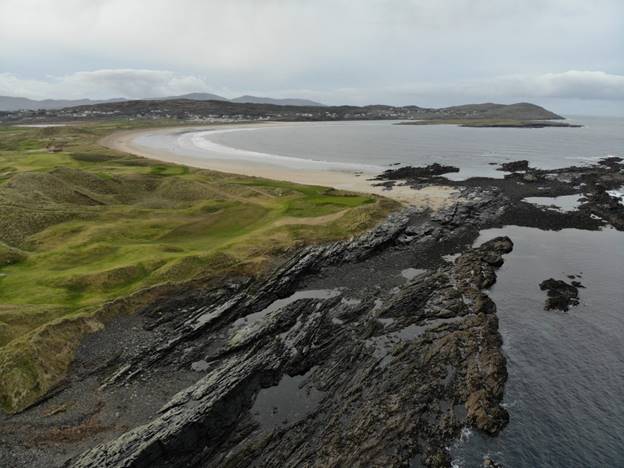 Golfers playing Narin & Portnoo Golf Course will need all their skills to effectuate a range of different shots. With the course's tight doglegs, cavernous terrain, raised greens and twisting fairways, players will need to have their wits about them if they're looking to score well.
The signature par three is played over a gorge onto a two-tiered green where making par is anything but easy. If you're looking to play a simple, old-fashioned and rewarding links course, then Narin & Portnoo is the place for your golf vacation.
Rates are €60 during off season and €120 normally. Caddies are available, as are carts (buggies).
ww.narinandportnoolinks.com
Donegal Golf Club, Murvagh, County Donegal, Ireland
18 holes, par 73, 7453 yards. Links.
Surrounded by the Atlantic Ocean, Donegal Bay and a designated Special Area of Conservation, it is one of the longest golf courses in Europe, measuring a massive 7,453 yards from the championship tees.


Donegal Golf Course was originally designed by Eddie Hackett, a legend of Irish golf course architecture and is often referred to as the Muirfield of Ireland. This links course is built on a promontory of 182 acres that extends out into the Atlantic Ocean. The course, built on land of geological significance, was inhabited in past centuries, and the earliest of Irish maps indicate this.
The original clubhouse was a caravan, to be replaced some months later, by a railway carriage. In 1976, a new clubhouse was built.  We had lunch in the clubhouse and the food at the restaurant was terrific!
The course, a par 73 for both men and women, consists of five Par 5's, four Par 3's and nine Par 4's, stretching over 7400 yards from the tips, with five regulation tees from each hole, plus a beginner tee.
Over the years the course has been re-molded by the "Master of Links design", Pat Ruddy, with Pat still dropping by to lend his expertise to the club and help it continuously evolve.
The outside loop plays along the dunes and the ocean, providing stunning views of the surrounding area. The inner loop is more protected, however, the constantly changing sea breeze provides a continuing test for both pro and amateur golfer. Despite its length, the course is an easy walk, broken up by the outstanding views, wildlife and display of fauna and flora that continues to change and evolve throughout the year.
Darren Clarke, the 2011 Open Champion and member of the Course, states that Donegal Golf Club is "one of my favorite courses in the world".
Donegal is an easy walk and a welcome break from the roller coaster dunes found on other links courses. The panoramic views of Donegal Bay and the surrounding countryside are sensational and the peninsula itself is steeped in local and ancient history.
One of my many favorite holes during my visit was Hole 5 – Valley of Tears – 196 yards.
With no fairway, this par 3 is certainly a challenge. Aim at the bunker back left from the tee. Fail to carry the valley, and you are left with a testing shot from an extremely deep bunker. The bowl shape of the green is forgiving, feeding the ball toward the pin, if it is placed kindly, This hole gives up more holes-in-one here than any other hole on the course, but just hit your best shot of the day to the green and walk on.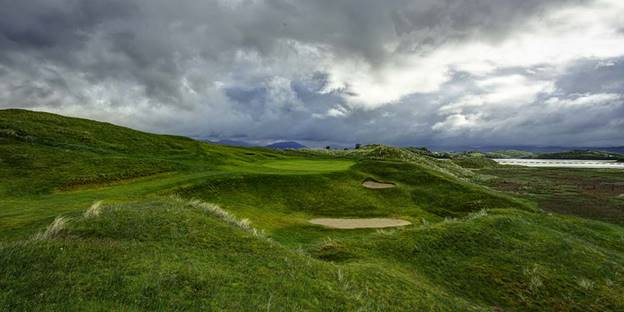 | | | | |
| --- | --- | --- | --- |
| Green Fees | November – March | April & October | May – September |
| 18 Holes | €50 | €100 | €130 |
Cruit Island Golf Club, Kincasslagh, County Donegal, Ireland 
18 Holes, Par 68, Length 5141 yards
Roughly 40 minutes farther north from Portnoo on the Donegal Coast lies a golf course that has been described as simply one of the greatest 9-hole courses on earth. The course is set on the edge of the wild and rugged Atlantic Ocean — next stop America! You will savor unrestricted panoramic views that will take your breath away, especially its iconic 6th hole hitting over the Atlantic Ocean onto the green on the cliff edge.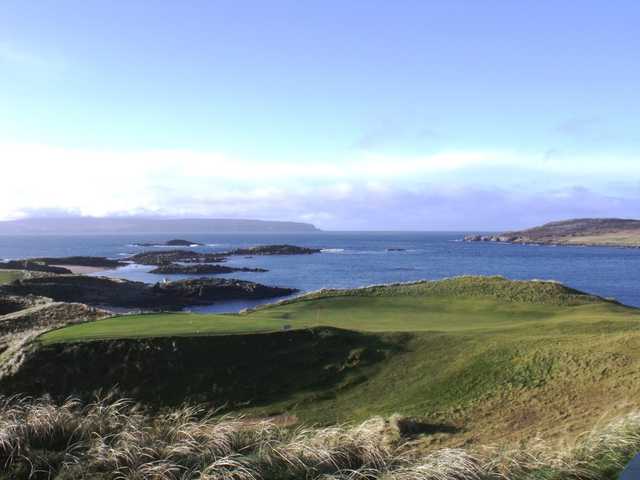 The views afforded by Cruit Island are outstanding, on a par with world favorites such as Pebble Beach, Old Head, Kingsbarn in Scotland, Pinnacle Point in South Africa, and Kauri Cliffs in New Zealand. Cruit Island is a true natural 9-hole links course where every shot must be methodically thought out.
Cruit Island Golf Club (pronounced "Crutch" Island), is purely and simply a must visit. Place it on your bucket list.
What's so great about the course is that you can play there for about one tenth of the cost of the aforementioned "name" courses!
Rates are €35 per person!
www.cruitislandgolflclub.com
Concra Wood Golf Club, Castleblayney, Co. Monaghan
18 Holes, Par 72, 6635 yards
This was one of the nicest courses I got to play. So different from the true links courses, yet overall most enjoyable in all aspects such as setting, views, flow, operations staff and FUN to play. Concra Wood is a beautiful and evocative setting for a golf course.
The golf course was designed by two of Ireland's golfing legends: Christy O'Connor Junior and Senior.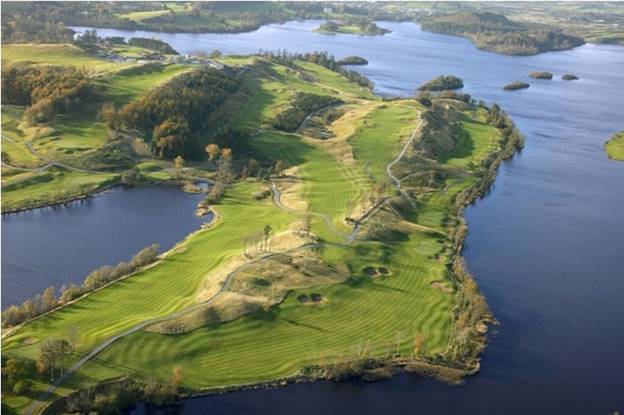 Overlooking Lough Muckno, a lake, the shape and flow of the golf course are perfectly complemented by the drumlins that roll across the countryside. The wooded landscape tilts down into Lough Muckno. The views are spectacular, stretching across the Monaghan Drumlins to the Cooley and Mourne Mountains to the east, and the Slieve Gullion and Mullyash Mountains to the north. And all the while you are surrounded by the lake and its scattering of islands, including Black Island, Otter Island, Crane Island and White Island. It is a unique setting that golfers, fishermen and walkers will love.
This easy rhythm adds to the beauty of the course and its challenges, and it will inspire every golfer who chooses to play here. Woods and trees stretch their way elegantly around the course and between holes to give Concra Wood a truly natural touch.
This challenging course! It is a tough walk and accurate driving will help your score and prevent the loss of many golf balls in the water or gorse. There are plenty of hills between tees and on some holes. I suggest a cart. The course has a great club house with outstanding food and drink.
Rates range from €50 to €85
www.concrawood.ie
Ireland is a great country for its outstanding scenery, friendly citizens, plentiful whiskey and some of the best golf I have ever experienced. I look forward to my third visit to Ireland in the not too distant future.
A special word of thanks go to my hosts, Rory Mathews of Fáilte Ireland and Bernard McMullan of Tourism Ireland.
Barry Lotz, J.D., Ph.D. is the director of the Professional Golf Teachers Association of America. Visit www/facebook.com/PGTAA to see all the latest mental strategies and equipment reviews. He is a member of the Golf Writers Association of America and serves both as a Consultant and Mediator to the golf industry. He is also the author of numerous books, including "333 Best Web Sites for Golfers" and his previous book, "How to Build Business Relationships through Golf", updated for 2011, is still in the Top Ten Golf Business Book's best seller list. His latest book, "The Right Mind for Golf", is now in its 7th reprint is available on Amazon and at the Torrey Pines golf course
He can be reached at drlotz@cbsgolf.net
This entry was posted on Thursday, August 8th, 2019 at 12:12 am and is filed under Golf Equipment Reviews. You can follow any responses to this entry through the RSS 2.0 feed. Both comments and pings are currently closed.